Introducing RMAN (Retain My Asset Names) - a Total Solution for Customized Trainz Asset Naming



Many Trainz users want to organize their assets as they indeed originate from creators of all corners of the world not working to any naming standard per se. When Surveyor tabs are opened, we can be dumbfounded by the variety of asset naming styles thrown at us as route modelers. The most effective way to fix this is to modify asset username tags. It is laborious work, let alone capable of being undone by a reversion or revision of an asset. To overcome the labor and challenges associated with customizing Trainz asset names, now there is RMAN (Retain My Asset Names), a free shareware program for Windows Desktop which gives you these powerful tools and features to organize your Trainz assets the way you want them and keep them that way:

Automated config.txt edits - RMAN renames assets as quickly as you can type them.
Places you in charge of how your asset names read by establishing your own personal asset name database under your full control
Custom asset names you applied to TS12 can be brought forward to TANE and/or TRS19
Custom asset names you painstakingly applied in TANE can be brought forward into TRS19
Provides you a table / spreadsheet of your assets aligning names from all data sets for each kuid version
Allows you to compare and copy (or compare and modify) your older asset names and/or your custom names to your latest asset library
Bring your customized asset names to the next major release of Trainz beyond TRS19 - puts the "Retain" in "Retain My Asset Names"
Ability to run separate data sets for your various user data folders and import and export between them
Record personal notes for specific kuid versions
Gives you the choice: revert or repair assets that go faulty with your current Trainz release.
Provides convenient asset preview and config.txt display buttons to help you decide on a name for an asset
Supports maintenance of older kuid versions to accommodate multiplayer sessions
"Data Reliability-oriented" data handling design ensures high data integrity of you work
Personalize or differentiate your RMAN installation(s)/data set(s) by selecting from pre-loaded railway/transportation logos
Designed for the Past, Present, and Future...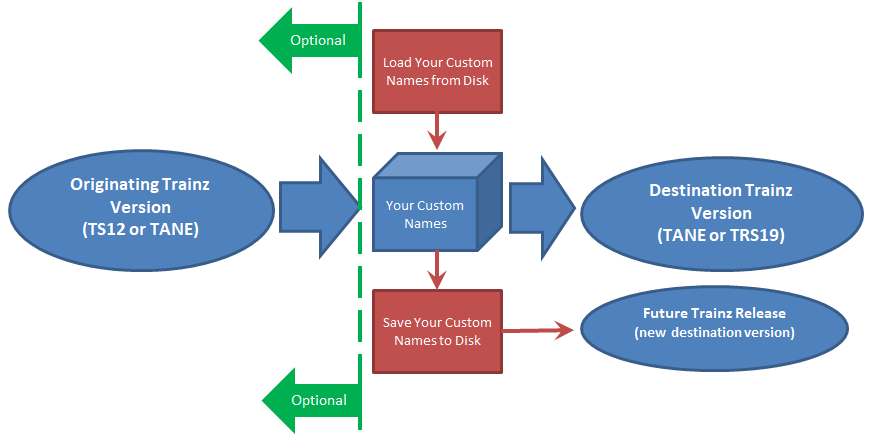 ​
For the Present: RMAN is designed to maintain your custom asset names the way you have set them in a database fully under your control. Bring your custom names into your current local asset library so when you open your Surveyor Tabs, things will make a lot more sense. Reversions and ongoing revisions are quickly dealt with using RMAN's "Asset Update" and "Asset Deletion Review" features.
For the Past: bring forward the names you assigned in your prior TS12 or TANE installations. Either copy them as your permanent custom names, or use them as input as to what names you would like to assign now. (This is an optional feature)
For the Future: RMAN will be revised to accommodate the next Trainz generation release. Historically, many "built-in" assets will get re-released with the same names as in prior Trainz releases. Now you will be able to carry over your customized names into your new local Trainz asset database/installation, whether it be for N3V's built-in assets or publically released assets you have found a much better name for.
​
RMAN Screenshots​
| | |
| --- | --- |
| Editing an Asset Name with RMAN | New Asset Found during Asset Update |
| | |
| Deleted Asset Found during Deleted Asset Review | Asset Preview |
| | |
Video of RMAN in Action
In this video, RMAN is shown editing a single asset. The TS12 name appears in the shaded text box "Originating Version Name" in the lower window . As this is a built-in asset, notice that the TS12 name, previously collected by RMAN, is the same as in the User's current Content Manager for his/her current Trainz asset library.

The User then types in their prefered custom name in the "My Asset Names" text box.

The User then clicks on the "Copy My Asset Name to Destination Version Name" button which brings his/her customized name into their current Trainz asset library. Finally, it is demonstrated in the Content Manager the asset immediately took on the User's custom name.
[video=youtube;MC4bgIBbbDg]http://www.youtube.com/watch?v=MC4bgIBbbDg[/video]
​