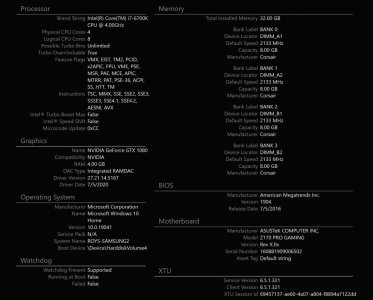 see this well this kept me alive for many years but changes are coming from a totally unexpected corner.
I clean my pc almost every month and see rust stains on the screws and things but the GTX1080 is still running like the good old faithful every day for 10plus hours (red most of the time working on my WIP.
Everything still seem to hang in there but for how long and what next if this sweet Asus Rog Strix 1080 brakes down I am stuck I mean really stuck which is totally scary as the world burning in almost every corner the gamers pc"s are not spared too.
Almost 19 years married and live in the middle of nowhere is an accomplishment some say, I say I enjoy day by day with her andd all the animals.
I know this is a part and labor thread so here is what happened:
Kerry logistics delivered a xmasbox ordered by you guess now not me but her and saving my trainz life.
Asus Tuf 24G 3090 fresh out of the box .
Normally woman when come home or have a 'surprise' its of a different kind (no not talking about pregnant) so this is what I call a very welcoming surprise out of the blue sky.
She know I talk and curse sometimes about what if this and what if that brakes down...and she was/is a good listener.
Today another box will arrive she said with a cooler master C700P and a bigger power supply 1250 80 Gold to cover the next 10 years (if i make it:hehe
.
So here I am with a bloodpressure through the roof but still ok and in for some action.
Tomorrow i will drive over the mountains to the next nearest town where I shop can do the removal and fitting the C700P with all the goodies.
The 1080 i put in a safe box for spare tire if something goes wrong somewhere.
Fingers crossed all goes well.
From a sunny and very cold (relative) Thailand NE. The Mekong river runs low level,dry season 7 month kicked in, so is my wallet but he you only live twice in Trainz.
Long live S20!!
S20 is the real king in Thailand too!!
Any advice suggestion welcome on making this new rig be the best ever and link it to my Samsung 65" 4k.
Man what a rig:mop: