Greetings!
I bring to you some images from a land of rails galore! The midwest portion of the US; specifically Ohio and Pennsylvania and the western end of New York, down in to W. Virginia and Maryland, is loaded with all kinds of history with rails. It's where railroads began transporting people and goods alot faster than by horse and buggy or canals that were in use at the time. The route I am building is truly a mega route of colossal proportions! True to 1:1 scale, semi-prototypical, and true to a parallel alt-history. It will not be for public release; due to the fact that many others have done the hard work and due to the scope many community members have contributed their own work to the Trainz community. I am merely compliling it all into this mega project! The sheer scale of it would be unrealistic to try to share anywhere without breaking it up into the smaller DEMs out there, thus defeating the purpose of the route. Think Microsoft Flight Simulator meets Railroad Empire 2, set for Trainz. Well this route is not the scope of the entire globe of course, but at least a nice-sized section of it.
This was mainly inspired by BillM's wonderful route; the Pennsylvania & Berwind railroad that he started and released in Trainz 2006. That's where I found it! It was later released as an updated version for Trainz 2009. And recently, Approach Medium has released Phase 1 of his version of the P&B; again inspired by Bill's amazing work! At the time, that route was one of the largest that you could find for Trainz! That's what fascinated me and set my dream of someday making a truly epic real scale route. Just to say I did it.
Below are some screenshots that I will share of this work in progress. Note: The P&B is not actually a part of my mega build. I have it included here, because it's the true inspiration for what I'm working on.
WARNING: Large images if you click and click again!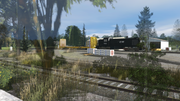 Above: A screenshot taken from BillM's P&B in Old Town at the Beaumont Lumber Co. The route has aged gracefully, taken in Trainz Plus!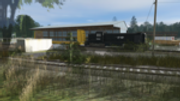 Above: The same screenshot taken on my updated revamp of the same location using Trainz Plus / TRS22. It's a cross-hybrid of Bill and AMs route(s)! Just some inspiration from AM and I like what he's done. Again, this will not be released by me. Get the original!
The old P&B route gets a v2.0 in Trainz Plus!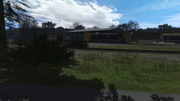 Above: A screenshot (untouched except for the consist) of the same location from ApproachMedium's P&B in Trainz Plus. if you haven't gotten it yet, what are you waiting for?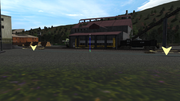 Above: The closest I could find for "Old Town, PA" from the P&B is a mill in Ellerslie, MD. This was taken from jrfolco's Baltimore to Connellsville & West Mega Route (the real starting point of this massive build!)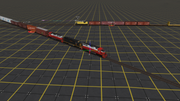 Above: And finally, a teaser of a crossing of two of the railroads at Spencer, OH in Trainz Plus. This is where the historical railroads W&LE (Wheeling & Lake Erie) and the AC&Y (Akron Canton & Youngstown) cross at a diamond. I couldn't tell you who does today, but I like the idea of old meets new! Also, interchange between the railroads is possible between the two railroads. Spencer, OH will be filled out next, well with SO many towns to choose from, why not!?
This is meant to be an inspiration for others to go out...do the research, grab the available routes off the DLS and set out upon your own adventure!
Again, it would not be possible without the work of so many that have released DEMs of routes in this region and all of the wonderful assets; both payware and freeware that have been made through the years! I appreciate and thank each and every one of you. My dream would not be possible without your efforts. You know who you are and there are just too many to name. I've lost track of this route. It's a monster!
Enjoy!
PS: WARNING: If you do this, have a beefy PC and GPU! Just sayin'
Last edited: