So I have noticed from time to time that many questions about multiplayer are brought up. Or other issues are asked. Then there is also so much that some one who has yet to even try multiplayer might want to know before even trying it. So let me try to address as many thing as I can as fast and easily as I can.
All of this applies to T:ANE and Trainz Mac.
What is Multiplayer?
Multiplayer, or MP, is just like driving a train in any other scenario in Trainz. With the exception of there is no set task to complete, and all the AI trains are not AI trains, they are fellow players siting at a computer just like you are. And they may come from other parts of the world yet here they are, siting in the locomotive right next to yours.
How do I join a Multiplayer Session?
Simple, download any route and session that has the multiplayer rule in it. Most will have MP or Multiplayer in the title or description. Most of the time, some one will post on the forums stating that they will be hosting a MP session, and which route you will need. UMR has a 24/7 session going, that all ways has a few people. Some times UMR has a password, this is in response after a few players decided to crash trains and make a mess of every thing. (See MP Etiquette further down)

Can I play multiplayer on my own route?

Yes, but there are a few rules to this. First of, the route its self
MUST
be on the DLS, as well as the session. And to add to that, all assets must be on the DLS or built in as well. I know that Jointed Rail EMD SD60M in BNSF that you paid $10 for is the best locomotive you have ever seen, but its not on the DLS so you can't have it in your session. And here's another twist, all the assets for the asset must be on the DLS as well. So that really cool ZMCX Mechanical Reefer is just what your meat packing plant needs to haul away fresh meat. But the trucks for it come from RR mods and are not on the DLS, meaning the car is a no-go for MP sessions.
Can I host a session?
You sure can! It just has to meet all of the above requirements for an MP Session. You can even password protect your session. Meaning only those with the pass word may join. This means if you really only want to have your few friends join your session, and no one else to come in and muck things up, put a password on it and tell only your friends. If you don't have a password, then any one may join. Only set a password if you want to have just your friends join, other wise, leave out the password and you might get to meet new people who you'll want to invite to those private sessions.
How do I talk to others?

There are a few ways you can communicate with other players. There is the in-game text box.The other method, and what most people use, is Team Speak (
http://www.teamspeak.com
) often called TS. Most sessions use TS to talk with voice communication. But its a big thing to set Push To Talk. (See MP Etiquette next)
MP Etiquette
There are a few things to remember when running in a session and when using TS. First off, on TS, make sure to set Push To Talk, PTT. This means you will have to push a button, that you set, to talk to others. You do this so that way we, the other players, don't hear your dog barking, or your door bell, your mom telling you to do the dish's, your wife telling you to do the dishes, or any other noise that might come form you house. Nothing is worse then hearing every thing that is going on in the background of some one else's house.
Also, remember that other people will want to run trains. So don't try to pull EVERY car with EVERY locomotive. The more you have in your train, the less there is for every one else.
Tech Tips
Some things that you can do to try and optimize your MP experience.
First off, go to
Speed test.net
and test your computers connection speed. If your ping is high, or your upload or download speeds are low, this will show you. If so, there are a few things you can do. First, Power Cycle your internet modem, and your router. This means shut them off for 2 min, then turn them back on. Wait about 2 more min afterwords then test again. If you still have bad results, try adjusting your routers settings. Read your routers institutions for help there. If you still have low results, then you may need to get a hold of your Internet Service Provider.
Requirements
To be able to play multiplayer in TS12 or T:ANE, you should have the latest build of the game. At the moment of writing that would be build 49922. You can find this number in the bottom right corner on your start-up screen. If you do not have the latest build, go to options on that start-up screen and find where you can enter your username+password; you will find a patch button on that screen.
To be able to see active multiplayer sessions, you need to have the route downloaded on your machine. To be able to join the session, you also need to have the session downloaded, together with all dependencies. Clicking "join session" will try to download the session and dependencies. If this does not work, look up the session in Content Manager and download it from there.
You will need to ensure you have the same build as the person you are trying to join.
To find out which build of TS12 or T:ANE you have open the Trainz Launcher and observe the build number in the bottom right corner.
Troubleshooting
If you are having issues joining a session such as this: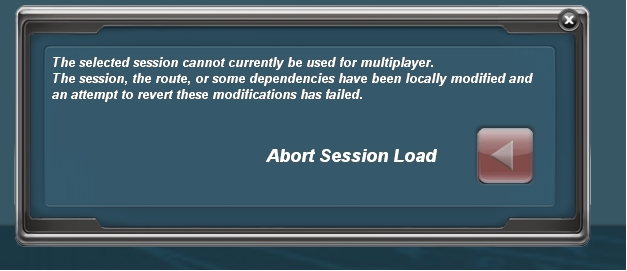 There is a quick and easy fix. Just go into content manager, then try doing a Quick Database Repair. If that still dose not work, an Extended Database Repair would be needed. After all that, if your still having issues. Make sure that all the dependencies are in fact installed, and all of their sub dependencies are installed. But doing a Database Repair has a really good chance of fixing any issue such as this.
One way to fix this: (By Scottb8)
When you get the error depicted in the image, try doing the following:
1) Go to Content Manager and locate the offending session.
2) List the dependencies in the main list.
3) Now add the filter "Locally Modified: True".
4) Apply the filter and delete any assets that remain in the list.
5) Now change the "Locally Modified" filter to "Location: Download Station".
6) Download everything there.
7) Remove the "Location" filter.
8) Select everything and return to step 2.
Continue until there are no more assets left to download, or until the list becomes repetitive.
Now, double-check that everything has its dependencies intact, and that nothing is faulty. If you are missing dependencies (unknown location), it could be that the asset version referenced in the config is not on the DLS, but a newer version does exist. In that case, look up the author ID (e.g., if the KUID you need is <kuid:612368:100021>, look up "Author: #612368") and sort by Asset KUID, ascending. Scroll down until you find the KUID you need. Then download the most recent version of that asset from the DLS.
If any dependency comes faulty from the DLS, you cannot play the session in multiplayer.
Why cant I find any multiplayer games?

This might be caused by three problems and the first is by far the easiest to fix. You might not have any downloaded. There are lots on the DLS out there to download for both TS12 and T:ANE.
But I have all of those routes and sessions downloaded.
That brings us to the second reason you might not be able to join a session. There just might not be any up and running. Someone some where must host a session so you may join them, and if no one is hosting, then there are no sessions to join. (At that point, I suggest hosting one your self. Others might join.) The other issue that may prevent you form joining a session is iChat may be down. And there is an easy way to tell is if iChat is still working. That little icon of a face near the top right corner of your screen, seen here: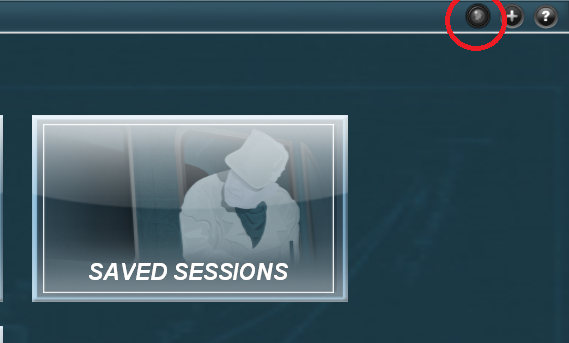 If its grayed out like that, that means your not connected to iChat. Clicking on it will bring up your buddy list,
Clicking connect will attempt to connect to iChat. If it dose, then the icon in the first screen shot will become green. If not, then ether iChat is down and so are MP sessions, or you are having internet issues on your end.
Last edited: