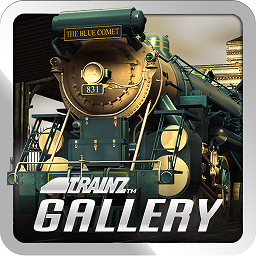 Trainz Gallery is now available for your mobile devices, and it's FREE!!
With Trainz Gallery, you can view spectacular images of railways and trains from around the virtual worlds of Trainz.
Download Trainz Gallery for free from
App Store
or
Android Market
.
The Trainz Gallery updates automatically with new images added daily.
You can also watch Trainz videos via YouTube, discuss your favourite topics on the forums and keep up to date with all the latest Trainz news on your phone no matter where you are!
All images are created by members of the Trainz community using Trainz on PC, Mac & mobile devices. Even though it may sometimes be hard to tell the difference, these are screenshots not photos! We're constantly adding more, with new images being added daily.
Whether you're a railroad buff or a railway fan, you are sure to find what you are looking for with Trainz Gallery.
Some of the contents which you can expect to see in the Trainz Gallery includes:
- Steam locomotives.
- Diesel engines.
- High-speed electric trains.
- Freight wagons.
- Passenger cars.
- And loads more!
Scenes include modern rail yards, narrow gauge tracks; passenger terminals and stations, busy industrial hubs, rural scenery, and even ports and airports.
Just some of the rail companies highlighted includes:
- Union Pacific.
- BNSF.
- CN.
- BR.
- GNER.
- Renfe.
- DB.
- SNCF.
- QR.
- V/Line.
You will also come across these fantastic locomotives:
- The Flying Scotsman.
- Class 55.
- DD40X.
- SD40.
- F7.
- Class 101.
- GG1 and tonnes more!
Please note that not all content shown may be available in standard versions Trainz Simulator, and may only be available from the Download Station or through pay ware.
You will need an Internet connection to use this app.