Here's a couple shots of my Cleveland Ohio project. The project will be roughly in the late steam/early diesel era, but some of my diagrams span early 1900's to modern times so it will not really represent any specific period. Cleveland is a real spaghetti bowl of tracks so I will have to cut it down quite a bit or it won't run. Eventually I'd like to model most of the downtown and surrounding areas, to include Cleveland Union Terminal (Tower City today). I have all of Cuyahoga County on baseboards, all DEM'd and TIGER'd, but I will probably cut down most of the outer baseboards.
First shot is looking southeast from the Cuyahoga River from the top of Bridge One toward the west bank of The Flats. Main Ave Viaduct (today the SR2 bridge) in foreground, what's left of the original Detroit Av Viaduct in center, and Detroit-Superior Viaduct in background. The National Terminals warehouses sit along the river as well as the old B&O freight house (no longer standing) and powerhouse (now the Rock Bottom Brewery). Both bascule bridges are still standing today, but all the track here is gone and the bridges are permanently fixed in the raised position. B&O owns the track here on the west bank of The Flats, although some of my diagrams show it as Cleveland Terminal & Valley (eventually absorbed by B&O).
Next shot is looking west at the Whiskey Island ore docks. PRR owned the docks here, but in the immediate foreground is the NYC Buffalo-Chicago main. Ore from Lake Superior came in here and ended up in steel mills in the northeast Ohio area. At one time this was the largest iron ore unloading operation on the planet. The 4 Hullets and the gantry are gone today, but some track still exists here. This is very scaled down for TRS2006 purposes, there were many more tracks squeezed into Whiskey Island than depicted here.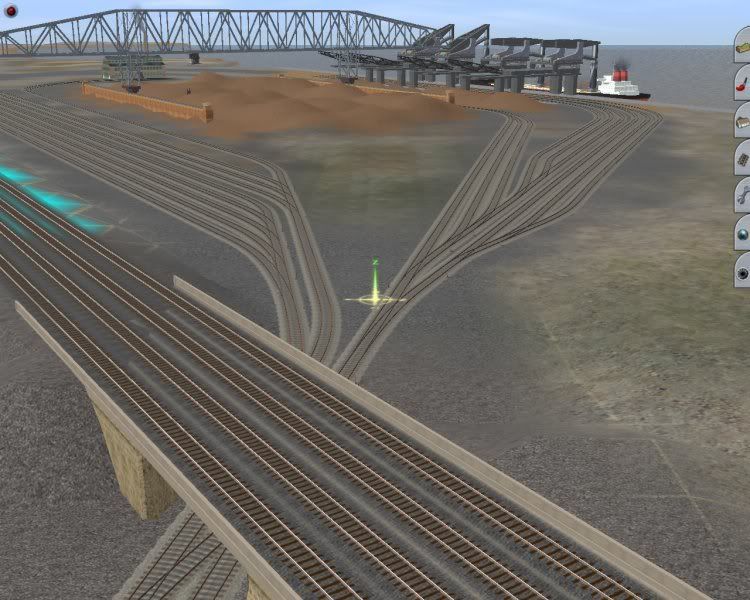 Enjoy!
Jeff
Last edited: